A Family Trip To Vermont
by Robert
(NH)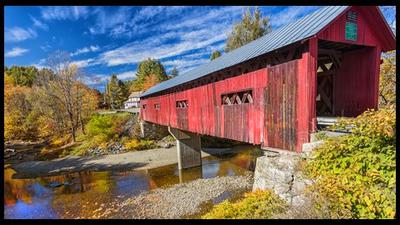 We drove to Vermont to experience the beautiful scenery and all the local tourist traps we could find. The first thing you notice in Vermont is the endless rows of mountains.

They go so far back that you can see a haze the further you look. The air is cold and crisp, and even smells nice. There is surprisingly a lot to do in Vermont when you think of how few people there are. Towns aren't very busy but the little shops are full of goods and trinkets begging you to buy them.

There is every type of food you could possibly want to eat all within a stone's throw from everything else. The hotels are respectable - we aren't talking the Ritz here, but they aren't a dump either. We actually stayed in a bed and breakfast.

They had an artsy spin on old antique things. It really gave it an individual look that you can only find in Vermont. For example the chandelier that hung in the dining room was made up of old tea pots and cups. They were all bronzed and the bulbs came out of the open tops of the pots as they looked to be pouring downward. It was very nicely done.

The owners were extremely nice and a joy to chat with. It was very quiet at night and a small hot tub to relax in if you felt the need. Breakfast was straight from heaven and I would go again just for that.

We left the hotel and walked around the small town stopping into every little store we could find. Just seeing the different collections in each store was worth the trip in itself. In one shop, the owner created his own invention to make it look like the toys were moving on their own. It was pretty cool.

Then to be able to stop by little bars and pubs, kick back, and just enjoy the day was a cherry on top. Of course being in New England you always have to hope that it doesn't randomly rain. Everything is so nice and calm there. Just sucks the stress right out of you and makes you want to stay forever.