Losing 150 Pounds While Living With Chronic Pain
by Tom
(Wilmington, NC)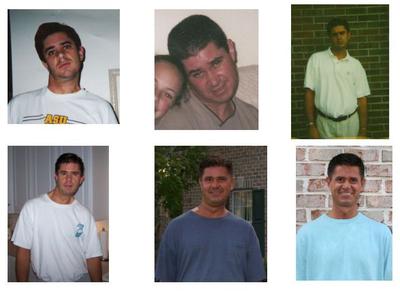 In the Summer of 2001, my neck muscles began to involuntarily contract, causing my head to pull to the right. I had no idea what was wrong. My doctors were also baffled. No one knew how to help so my symptoms kept getting worse.

I searched the Internet like crazy and finally discovered dystonia, a neurological movement disorder. A neurologist specializing in movement disorders made the official diagnosis. It was a relief to know what was wrong, but scary to think of what lay ahead.

By the time I was diagnosed, I was in extreme pain and disfigurement and pretty much unable to do anything on my own. My head and neck were locked towards my right shoulder and the muscle contractions significantly worsened with any type of movement. I had to drop out of graduate school, quit my job, and move in with my parents because I had become disabled to the point that I could not function without their help. I felt immense shame.

I tried a variety of treatments, none of which were of much help. I fell into a pit of depression, became very isolated, experienced severe anxiety and panic attacks, drank alcohol to help reduce the pain and muscle contractions, and had an awful diet.

Within 5 years of my diagnosis, I gained around 150 pounds due to my unhealthy, sedentary lifestyle. At well over 300 pounds, I didn't recognize myself. Life was anything but fun!

In December 2006, I caught a stomach virus and was sick for almost 2 weeks. During that time, my dystonia symptoms subsided a little and I lost about 15 pounds. While getting sick was not the type of motivation to change I would have chosen, it was exactly what I needed. It was a wide open window of opportunity and I jumped through it. I knew if I didn't, I would eventually have more serious health problems.

I changed my diet and began exercising, for weight loss and to help manage my dystonia symptoms. I started out by walking to the end of my driveway, gradually increasing to 2 miles twice a day. In less than a year, I lost all the weight and was back to a healthy 190 pounds for my 6' 2" frame. I also found some effective ways to better manage my dystonia.

People often said to me that I must have a much better attitude after losing all the weight. My response was, "Getting a better attitude is what motivated me to lose the weight." My attitude was certainly better and I absolutely felt better about myself, but had my attitude not changed prior, I never would have been so determined to take the necessary steps to lose the weight and better manage my dystonia symptoms.

I still have problems with my neck and back from dystonia that prevent me from doing certain activities, but life is so much better! I have maintained my weight and my symptoms are night and day compared to the horror I once lived. I used to essentially live on the floor, writhing in pain, feeling completely worthless and depressed, unemployed, morbidly obese, and totally dependent on the help of others. I didn't want to wake up in the morning because I didn't want to face the constant physical and mental pain.

Now I am at a healthy weight and in much better control of my dystonia to where I can live a more normal life with passion and excitement.

Not wanting others to go through any of the experiences I did, and to help those who are going through similar experiences with their different health issues and other life challenges, I became certified as a professional life coach in 2012. Utilizing this education and the tools I learned from my experience living with dystonia and chronic pain, I now dedicate myself to empowering others to improve their quality of life.

In 2015, I published a book called Diagnosis Dystonia: Navigating the Journey. I wrote this book to give others hope and inspiration, as well as guidance for how to better cope with a life altering chronic condition. It was recognized by the Michael J Fox Foundation and added to their list of suggested resources.

In 2021, I published my latest book, Beyond Pain and Suffering: Adapting to Adversity and Life Challenges. This book is broader in scope and provides strategies for managing difficulties we are experiencing in the moment, and for the unpredictable stressors in life, such as financial distress, trauma, pain, diseases and other illnesses, relationship issues, fear, depression, anxiety, and grief, to name just a few. This book offers tools and strategies for how to cope and manage these situations and move beyond the pain and suffering they bring, be it physical, emotional, or both. It teaches how to not make the most difficult parts of our life the most significant part of our life.

I have been faced with major challenges throughout my adult life. What helps me jump over hurdles is my belief that everything has a solution. There is nothing that can't be altered to improve our quality of life. Obstacles provide us with opportunities to grow and become better people, and every day I am grateful for the chance to help myself and others achieve their personal best. No matter what we are going through, if we never give up hope and trust that there is a way through our challenges, our lives can be transformed in very meaningful ways!