Christmas Miracle 2005
by Al H.
(Brick, NJ, USA)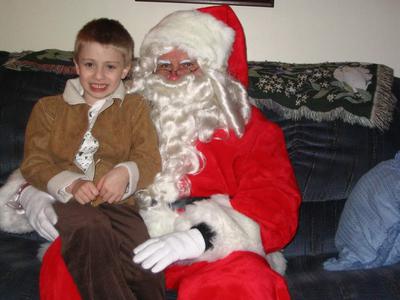 I have to begin in April 2005 when I was diagnosed with a severe mitral valve regurgitation. I was told by the head thoracic surgeon at the Univ. of PA that I could die any day. My heart was that bad.

My life at the time was very difficult. No different than anyone else struggling to make ends meet with four children. My wife and I lost our van due to extreme financial difficulties, and we were left with no option than to purchase a much smaller car. I am mentioning the car because it plays a role in this story.

That Christmas of 2005 was going to be very difficult for the family. I had four boys, and we took in a girl with an infant child who had no place to live. Money was extremely tight, sales were down at work, and we didn't have much to give the boys that year for Christmas.

Well, it was a couple days before Christmas, and we still hadn't gotten the boys to get their pictures taken with Santa at the Quakerbridge Mall. I called earlier that week, and was told that Santa will be done at 9 pm that coming Sunday. Christmas was on Tuesday. So, on that Sunday, I came home from work after working 10 hours, and it was a really bad day at work. That night we were supposed to take the boys to see Santa.

When I got home the boys weren't dressed, and no one had eaten dinner yet. My wife worked long hours at night, and she hardly ever slept. Sleeping 4 hours a night would have been a lot for her. She was completely exhausted. I was angry that nothing was done yet, and we had only a few hours to get to the mall before Santa left.

You see, we had only one small car, and I had 8 people to get to the mall. That meant multiple trips to get everyone there. I was fighting the clock, everyone was hungry, and no one was dressed. Inside I was frustrated, angry, tired, and this heart problem was taking a tremendous toll on me because I still hadn't gotten my surgery yet. I can't tell you how many times when I was alone how I use to just cry knowing death was right at my door.

So…as we were sitting there eating, I am watching the clock as the night was ticking by. My oldest son Alfons was six years old at the time, and was diagnosed with autism. He was just the cutest thing. As we were sitting there eating, he asked me in the kindest and most innocent of ways, "when are we were going to go see Santa?"

After feeling so frustrated with the whole situation I did the one thing I should have never done. I exploded and told him "We are not going to go see Santa because no one is ready!" After hearing myself say that, I got up, went to the bathroom and I just broke down. I was crying uncontrollably, as I begged God to please help me. I felt my whole life coming apart at the seams, and I had no one else to go to. Emotionally I felt like I was in a very dark place in my life, and I didn't know how to get out.

After getting myself together, I came out and told my wife to get the kids ready because we are going to the mall. I knew getting everyone there in two trips was going to take forever, and we were fighting the clock. After the kids were all dressed, I knew I had to take my wife, and a couple of the kids, then come back and pick up our friend, her baby and 2 more kids. It was going to take forever, and I just wasn't up for it on this night.

So as I am putting Aaron, my youngest in his baby seat in the car, I broke down yet again, and this time I said "God, please help me, please help me!" I can't emphasize enough how this night just made me feel that I was in such darkness and so alone! So, after about 10 minutes in the bathroom, I told my wife to get the kids ready because we are leaving now!

Rushing along, we both start getting the kids ready, and getting their coats on. I then take my youngest Aaron to the car in his car seat. As I was strapping Aaron in his car seat, I broke down again, and asked God to please help me…please help me! As I was strapping Aaron in, I heard a truck engine stop behind me in the street. I turned around, and there was a big, bright red pickup truck with a man dressed as Santa, and his wife dressed as Mrs. Claus.

I didn't know what to make of it. He started waving to me, and asked me how I was. Fighting back the tears, I said to him, "I am having such a bad day." I explained to him how we were taking the kids to see Santa at the mall. I asked him if he could help me and come inside the house to take a few pictures with the kids.

So as I am taking the pictures of the kids, I hear my wife and his wife talking as they are standing behind me. His wife said, "We were at the top of your street." Now keep in mind it's pitch black out, they were at the top of West McGalliard and Maddock Ave, and my house is at the very end of the block which is like ten houses away. So…she tells my wife that her husband stopped the car at the top of the street, and told her "I have to go say hello to that man down there!"

When I heard that, something happened inside to me. I knew then and there that God really did hear me. He really heard me! As little as my problem was in the grand scheme of things, he knew to me it felt like the end of the world. I can't say it enough how dark everything felt that day, but God really heard me.

I wanted to share this story with all of you hoping that you never forget that there is a God that really does see, and hear everything going on in our lives. And never stop hoping, never give up, and always keep faith in God because he does care. He does listen to everyone. Attached to this story are pictures of the boys still dressed in their coats, and the miracle that God sent me on that very dark night at Christmas time of 2005.