From Cerebral Palsy To Capable Person
by Ritesh S
(Karnal, Haryana, India)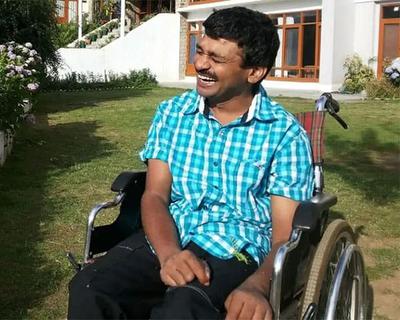 Dr. Ritesh Sinha

From the boy who was refused admission in most schools in his town, to a person who has shaped many careers in the field of computer science, developed Android app for people with Cerebral Palsy and propagated the message of boosting immunity through his poems and haikus has proven that mental strength can win over any physical disability.

Dr. Riitesh Sinha is a person affected with quadriplegic Cerebral Palsy, a condition wherein a part of the brain remains dysfunctional and the affected person has no control over his body movements. He is working for improving the quality of lives of people affected with Cerebral Palsy. His relentless service in the Cerebral Palsy field for the past 30 years made him a well known figure around the world, especially for his contribution in Legal and Medical Empowerment of people affected with Cerebral Palsy.

He was born in Vadodara, Gujarat to scientist parents on 30th March 1974. Since then life became a constant challenge for him and his parents at Karnal. No school was ready to admit him but Sinhas were determined to give him the best. One school obliged by taking him in with many riders attached. In 1980, he got admission in convent school. Other than studies, he also took part in extracurricular activities in school and college. He was once made to stand still as a Banyan tree in a school function.

After his graduation in Genetics in Karnal, he continued further education through correspondence as these were not available in Karnal.
In 1995, he was dismissed offhand even before being considered for any job by an NGO working for people with Cerebral Palsy. His father, hopeful that the NGO would assist his son in getting a job, was told that it was unthinkable for a person with Cerebral Palsy to be gainfully employed. Such is an attitude of people towards persons with Cerebral Palsy. This indicates a serious lack of awareness in the public about the capabilities and potential of people with Cerebral Palsy.

Undaunted, he went on to start his own computer training centre, where he administered computer training to more than 1000 persons to build a strong career in IT industry. The centre was affiliated to NIOS, New Delhi. His passion for the subject and dedication to teach, won him many students who still regard him as an excellent teacher.

He has created his blog- riitesh.blogspot.com. It gives descriptions about alternative healing techniques, particularly for persons with cerebral palsy. His work on alternative therapies can benefit nearly 40 lakh persons affected with Cerebral Palsy in India.

His innovations include a novel, self-designed foot-operated tricycle for outdoor mobility. This solution moved him from total dependence to independence. He developed a new Mudraa (hand-gesture) and pencil holding method for people with Cerebral Palsy, which are like magic wands for them. To make life of people with Cerebral Palsy easier, he has also designed adaptive clothing.

To raise awareness about Cerebral Palsy among general public, he has developed an Android app called Alternative Therapies for Cerebral Palsy. This is for parents and caregivers as well as the larger community. He was appreciated by India book of records for developing the app. His aim is to create awareness about this condition and create a complete inclusive world.

To encourage people with Cerebral Palsy he has composed Cerebral Palsy anthem in Hindi and English. He has also authored a book on Cerebral Palsy entitled Understanding Cerebral Palsy. He works untiringly for the cause of disability awareness and empowerment by leading social media group and named it Capable Persons' Group.

He is also a Corona warrior. He is helping people to develop immunity against Corona virus by using natural therapies through his poems and haikus on his social media platform.

In 2012. he was awarded CavinKare Ability Award by Ability Foundation, Chennai. In 2016, under the Digital India initiative of Government of India, he was selected by intel and thebetterindia.com for their Digital India campaign. In 2016, he was awarded ADAPT Activism Award by ADAPT, Mumbai. In 2021, he was awarded Haryana Divyang Ratna Puruskaar by Guru Brihaspati Divyang avam Baal Upvan Trust, Kaithal. In 2021, he was selected by Swarga Foundation, Coimbatore for their 2022 calendar. With his life and thoughts, he has redefined that Disabled stands for Distinctly Abled and CP stands for Capable Person and not Cerebral Palsy, showing hope to many.

Author. App developer. Corona warrior. Poet. Naturopath. Creative innovator. Consummate student. Model employee. Cavinkare Ability Award and ADAPT Activism Award recipient. Recipient of Haryana Divyang Ratna Puruskaar Limca and India Book Record holder. Honorary Doctorate recipient. Many achievements, one name – Dr. Riitesh Sinha.
Dr. Riitesh Sinha studied BSc (Genetics), PGDCA, CIC, MIT, Homeopathy Elementary Course, Diploma in Naturopathy and Diplpma in Ayurvedic Acupressure.