How A Deer Saved My Life Twice
by Colton
(NJ)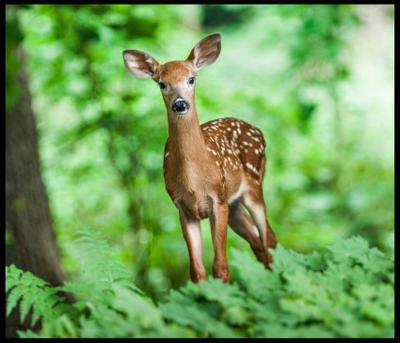 I'm an avid hiker. I enjoy taking a day or weekend trip through the Appalachian trails at least twice a month. I appreciate the exercise, the fresh air and the views.

One day I was hiking through North New Jersey and I came across a bear. The bear was approximately 250-300 pounds and crossed my path and slowly headed towards me - I froze.

Out of nowhere, a deer came running through the brush and captured the bear's attention enough for me to get out of sight, while still keeping an eye out for the bear. I was about 3 miles from an exit, regardless of which direction I was going. It would have to either hike 3 miles back from where I started or 5 miles to the nearest fire road trail.

I figured that it was just a freak occurrence and continued down the red blaze for another mile and a half where the view opens a bit. I found a nice spot in the shade to sit and have a snack. As I was enjoying my snack I was startled by a sound behind me...no, it wasn't the bear, but a frog.

I quickly jumped and lost my footing and slid into a pile of rocks. I scraped my knee and twisted my ankle pretty bad, to the point where it was almost impossible for me to walk. The adrenaline did not kick in and the pain was almost unbearable whenever I put weight on my ankle.

I tried calling for help, but with no signal and no local hikers near me, I was pretty much alone in the woods, again, about 4 miles away from an exit in either direction. Not to mention that I fell off the trail, so I was not very visible to any other hikers passing by.

Out of nowhere, a deer appeared in the woods; making a hissing/screeching sound. It was pretty obnoxious, but it must have alerted someone or something in the area to investigate. About 15 minutes later, while the deer was continuously making this sound, another hiker approached the noise from the other side of the cliff and noticed me sitting on the rocks.

He asked if I was OK. I screamed back that my ankle may be broken. It's really a miracle that he even was able to see me from the position I was in. He told me to wait for him and disappeared, so did the deer. The man must've startled the deer, but it seemed as if the deer really was calling for help.

About 20 minutes later, the man arrived in a bright orange jumpsuit and a quad. He picked me up, helped me on to his quad and drove me back to my car. He also gave me a brand new whistle and told me that this is a good diversion for bears and calling for help.

I was pretty much saved twice by a deer in one day and while that may not be the most touching story, it was truly incredible to have witnessed it.