Your Happy Animal Story
Join In And Share Your Stories, Pics And Videos


Authored by William G. DeFoore, Ph.D.
---
A great animal story can help you relax and let go of your worries.  Animals can be entertaining, interesting and fun. They make you happy because they're not complicated, and some of them (dogs, especially...) love you unconditionally.

When you take a break from the hustle and bustle of life to pet or play with your dog, cat, horse, goat or iguana, you're lowering your stress level, improving your breathing, and increasing your immune function. That's why therapy animals have become so widely recognized as a highly valuable resource in health care.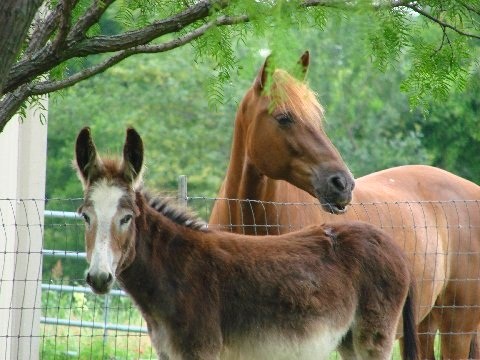 Lulu and Mateo

Yes, these are our pets. Lulu is the gorgeous donkey, and Mateo is the handsome Peruvian gelding. We have the fencing arranged so that they come right up to the back deck for morning treats and nose rubs. They are big for pets, but that's what they are.
We also have Hombrecito, with the nickname "Grand Man," because he's quite sure that he is the king of the world. Check out these shots of him...

| | | |
| --- | --- | --- |
| The "Grand Man" | He's A Music Lover | He Gives Rides To Cats |
You can see that he's quite the guy! And the cat who likes his warm furry back in the winter snow is Grayson, our indoor/outdoor guy who keeps us fit and nimble, opening and closing the door for him. And finally, there is Lacey, the lady of luxury.
Take a look at these two fine felines below...

| | | |
| --- | --- | --- |
| Lady Of Luxury | Lacey's Quiet Beauty | Grayson, Designer Cat |

Please Share Your Great Animal Story


This page is devoted to our beloved pets and animal friends of all shapes and sizes, and you are invited to get involved and share your favorite pet stories and photos for others to enjoy. We won't be publishing any photos without  stories, so be sure you submit both.
Your stories need to be at least 300 words in length, telling about how your pets made you laugh, warmed your heart or saved your life (that happens...). Submit now.

If it is selected, your story will be published as a web page, along with any photos you share. If you have a video to share, I will either link to it or embed it in your web page.
Then you can share the link to your page with your friends and family by email or on Facebook. Remember, this is all for fun and feeling good!
We're hoping you'll enjoy getting involved here, to share the love, humor and animal fun. Our pets are such great teachers, showing us devotion, playfulness, and pure-hearted joy in every animal story.
Enjoy this video, and feel that smile in your heart!

Have A Great Story About The Animals In Your Life?
We'd love to hear (read) your funny, touching, heartwarming or just interesting story about your pets, or any animals you have come across in your life.
What Other Visitors Have Said
Click below to see contributions from other visitors to this page...