Learn Meditation
And The Many Healing Benefits


---

Now you can learn meditation without joining any groups or becoming a part of any religious practices, if you don't want to.

And the benefits are truly amazing. Research has shown that meditation is good for your brain, your body and even your relationships, as the video below demonstrates.
On this page, you will gain access to an audio program that will help you learn to meditate so that you can get started experiencing these benefits right away.



As you can see in that amazing video, the benefits of meditating are tremendous. So...why don't more people meditate, and why do so many stop or give up after trying it?


Is It Easy To Learn Meditation?


The short answer is "yes." The longer answer is that learning to meditate is easy, but doing it consistently...not so much.
Why don't more people meditate? Here are some answers:
Meditation involves stepping aside from the rest of your life, to be still and quiet. A lot of things in life will "grab your attention," and meditation is not one of them.

Everything is in motion, and most of us are in motion from the time we get up in the morning until we go to bed at night. Meditation is hard for a lot of people because it involves being still and silent.

For most people, anxiety comes up at first when you start to meditate. Your busy mind might go into a panic when you sit still for a while without music, TV, or your favorite device in front of you.

Life draws your attention outside of you. Your five senses are giving you information about the sights, smells, sounds and sensations around you, and when you meditate, you're shifting your focus inside yourself, which is a very unfamiliar activity for most people.
So you can see pretty easily why most people realize it's a good idea to meditate...and yet relatively few actually do. Be the exception! Learn meditation now.


Why Should You Learn Meditation?


You should learn meditation because you want to be happy and healthy, and because you want to develop into the finest, most awesome version of you that you possibly can.
These benefits are unquestionable.

You will just feel better overall. The source of healing and well being reside within you, and when you meditate, you come closer to that source with every session.

You will become more fully and completely your true authentic self, which is magnificent and powerful beyond what you have ever imagined.

If you believe the idea that the very Creator of the Universe resides withing you, then you can understand how meditation also brings you closer to that unlimited, divine source of healing, joy and love that is connected with your core identity.

Your love for others

truly does depend on a deep abiding love for yourself and your spiritual nature. So when you meditate consistently for an extended period of time, you will find yourself

feeling more connected with others,

and more emotionally intimate with those you love and hold dear.
Ultimately, you will smile more, laugh more and generally enjoy your precious life more, moment by moment. Everything you have ever wanted to feel, and everything you have ever wanted to be, resides right there inside you, waiting for you to connect with it.
See what WebMD has to say about the benefits of meditation.

Why wait any longer?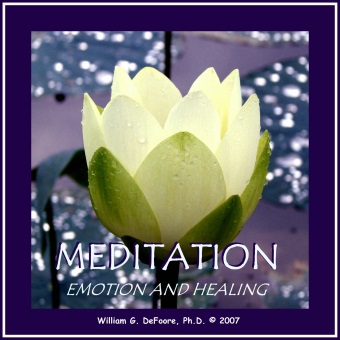 Meditation
Emotion & Healing


The benefits of meditation are so great that it's hard to wrap your mind around them. This will help you with every single aspect of your life. Here is a chance for you to learn meditation and begin making it a part of your daily life. So, relax and get started on your journey to well being.

Listen To Previews