The Story Of Trouble My Very Dear Cat Friend
by Laura
(Daytona Beach, Florida)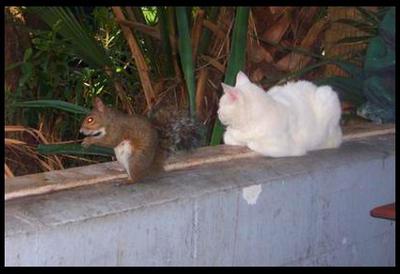 Trouble Coexists With A Squirrel


My cat Trouble was my feline soulmate and best friend. She came into my life in a fairly unusual way.

When my son was about 12, he and I were taking a walk and heard what sounded like a kitten in distress. We followed the sound of the screeching and wailing, which led us to a car parked in someone's driveway.

The homeowners, a young couple, came out to investigate. We quickly discovered that a tiny kitten about eight weeks old had worked its way under the car and gotten trapped in the motor. The husband and my son were able to free the terrified kitten, who was completely covered in grease and grime.

The kitten turned out not to be theirs, as the wife had a severe allergy to cats. Although we already had an adult cat, my son and I took the kitten home with us. We managed to get the little grease-ball cleaned up, only to find underneath all the grime the prettiest little white kitten I had ever seen.

She had one blue and one green eye, and although she was still trembling and frightened, the bath alone seemed to calm her down considerably. In no time she had worked her way into our hearts and into our family. We named her Engine Trouble, and called her Trouble for short.

Trouble became devoted to me and shadowed me constantly. The only time she left my side was when she tried to play with our older cat, Angel, who wanted nothing to do with the newcomer.

Trouble was my constant companion and was a "one-person" cat. She shied away from most people. If a stranger came into the house she ran and hid under my bed until they were gone. But she stuck to me like a little burr. Wherever I was sitting she was either by my side or on my lap.

I had a bond with Trouble that I have never experienced with any other animal or person in my life. She always seemed to know when I needed some cheering or consolation. She slept under my chin most nights.

Sadly, all good things come to an end. One day I noticed that her right eye was rolled back into her head and a portion of the right side of her tongue appeared to have been bitten off. We took her to our veterinarian who said she had oral cancer and that she had also had a facial stroke.

I knew then what I had to do. We made arrangements to have my girl euthanized and brought her home for a couple of days so that she and I could say our goodbyes. On the last night of her life, I slept with her on our sofa for our final bonding moment. The next morning, with heavy hearts, my husband and I took my dear friend to the vet for the final farewell.

Trouble is buried in our back yard and I visit her grave almost daily. But I know that what is buried in the ground behind our house is just her earthly remains. I believe with all my heart that Trouble's spirit is still soaring and that she is again the playful bundle of joy she was the day I first saw her.

I miss her dearly, but I know that someday I will again see and hold the dearest friend and companion I have ever known. Until then, I hold my beloved Trouble in my heart and memories, and will until the day we are reunited.