Books On Happiness
That Will Give You The Tools And Resources You Need


---
New books on happiness get published every day, and here's where you'll get only the best recommendations. Discover the keys to deep and lasting happiness, as well as tools and techniques for creating daily, moment-by-moment joy and well being.
Just browse through the titles you find below. When you select a title or image, you will see product details, with the option to buy the product. Books are available in paperback, hardcover or Kindle format.
Serai: Bringing The Children Home
By William DeFoore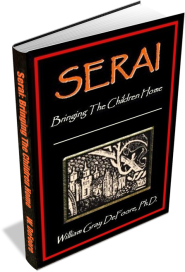 This book will take you on a journey into the vast and mysterious world of your own inner self, where you will love what you find!
Based on years of research and experience, this story guides you through the archetypes of your subconscious mind, helping you to integrate the various aspects of your magnificent mind and emotions into a radiant, joyful whole.
Available in hardcover, softcover or ebook format, you have a full refund guarantee with this book as with all of our products.


Comments From Readers Of Serai


"I've read Serai through twice now and started on a third time. Each time becomes more personally revealing and inspiring. The childlikeness of Serai is trustworthy and vibrant with colorful detail. It touches a lot of soul, real quick!"
Steve Wilemon, an avid reader

"Serai appeared at a point in my life where fear threatened to immobilize me. The courage of the main characters on their journeys to the underworld helped me to navigate my own inner journey, and to welcome back and heal parts of myself I had never known existed."
Margie Mahoney, BS, RDH, Life Coach

"The book Serai is written in such a beautiful, magical way, with warriors and wizards and many wonderful characters. I related to all of them. Best of all it teaches you, without teaching you, how to rescue the child that you were."
Abby


Free Previews Of Books On Happiness And More


These books on happiness will give you the science behind happiness, stories and encouragement on how to be happy, as well as tools and techniques to help you stay happier on an ongoing basis.
When you select any of the book images above, you will see a button that says, "Buy at Amazon.com" or "Add to Shopping Cart." When you select this button, it will take you to a page on Amazon.com that will also allow you to preview the books...just select the "Look Inside" option above the book image.
Also see The Top 10 Happiness Books

Most of these books are also available in Kindle format, so that you can read them in your e-reader, tablet or phone. Take a look at this list of Kindle books available on happiness.